AIA Vitality is an insurance linked health and fitness program. It is a rewards program based on your fitness actions. It is offered by AIA Insurance Malaysia. The AIA Vitality Malaysia wellness program is in partnership with other brands like Fitness First, Jaya Grocer and Air Asia as at this date.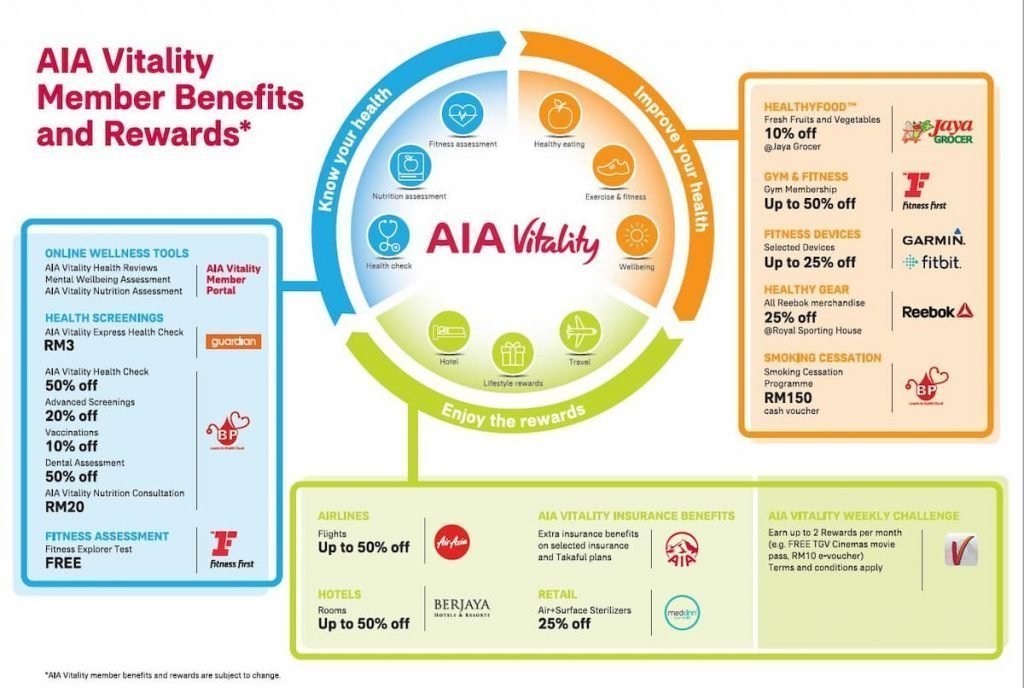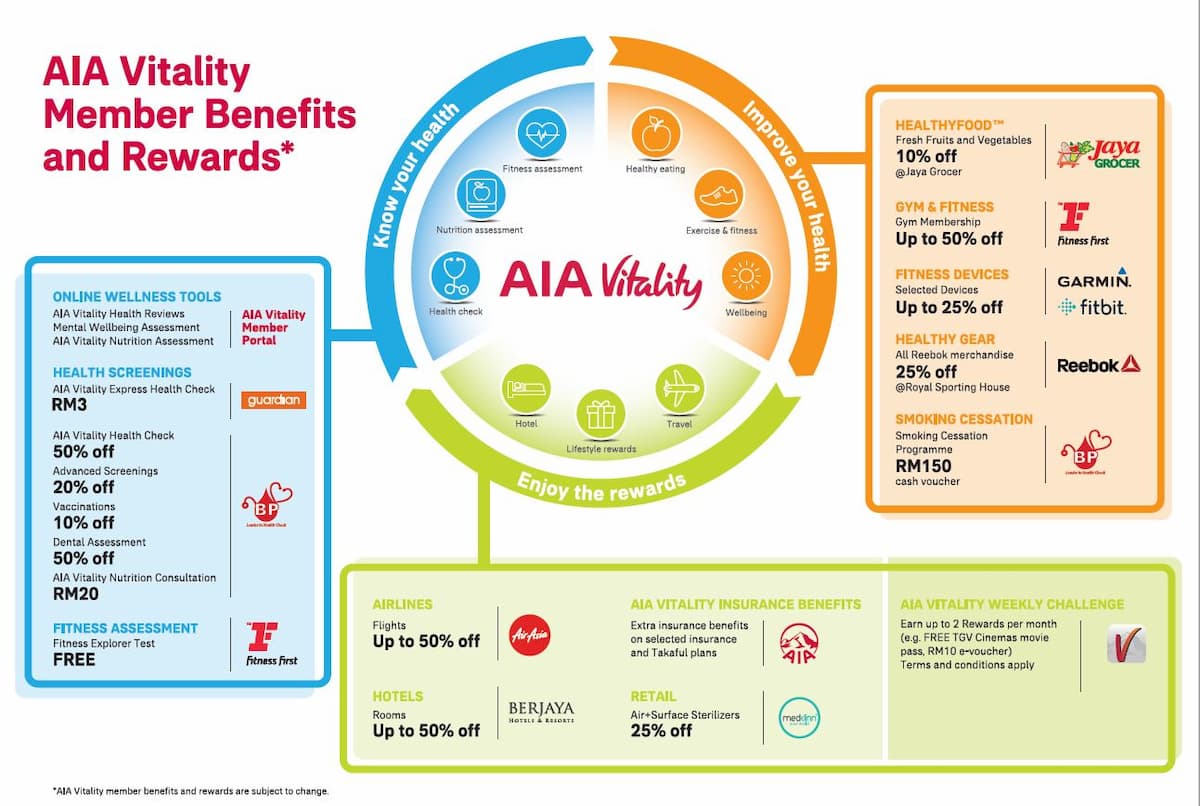 Why does AIA introduce this program?
This AIA Vitality wellness program in Malaysia helps you to live longer and have a better quality of life. It is known that just three lifestyle choices lead to 50% of deaths worldwide.
These three deadly lifestyle choices are:
Lack of physical activity
Poor food and nutritional choices
Smoking
These lifestyles lead to these four chronic conditions that cause 50% of deaths globally:
Diabetes
Lung disease
Cancer
So join this AIA Vitality program to live longer and healthier. And get rewarded and save more money by joining in.
A Review of How AIA Vitality Works
How to join the AIA Vitality Program?
You can join the AIA Vitality Malaysia Program by paying RM10 a month extra. If you are insured by an existing AIA Life Insurance or AIA Public Takaful policy. For non AIA insured, please contact AIA Insurance Agent for further detailed steps to sign up.

How to earn rewards points for the benefits?
You earn AIA Vitality points by doing healthy activities. Such as exercise, healthy eating and regular health checks. This is so easy especially if you use fitness trackers like Garmin, Fitbit and the like. And use the AIA Vitality member login portal to keep upto date on your rewards points.
What are the rewards points like?
There are four levels of AIA Vitality Status. Bronze, Silver, Gold and Platinum. The image below shows these four levels with the qualifying points needed. And the airline discount given as an example.


What are the AIA Vitality Rewards and Benefits in Malaysia?
You get extra insurance benefits with AIA insurance plans. Discounts at Jaya Grocer, Fitness First, Royal Sporting House, Air Asia, Guardian, BP Labs and Garmin and Fitbit devices. See the image below for details.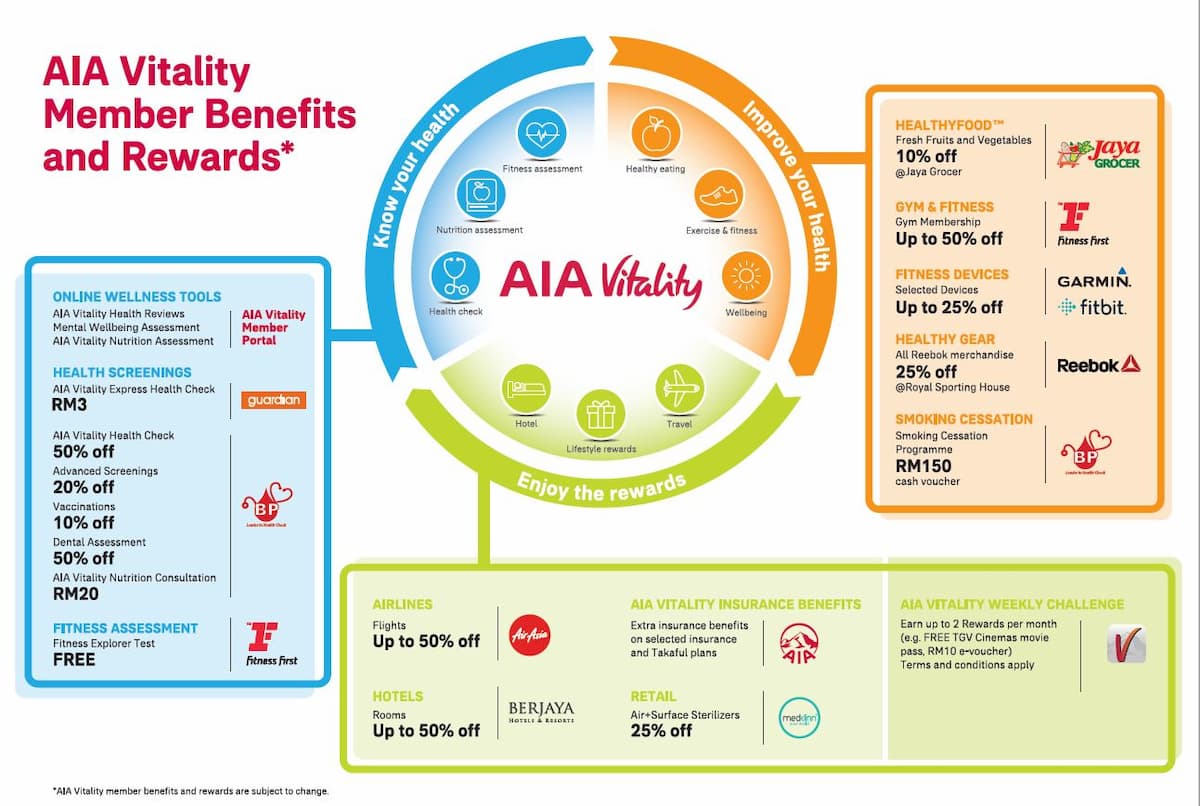 What are the Health Assessment Benefits?
You get discounts on dental assessments, vaccinations, advanced health tests and nutritional consultations with professionals.
AIA Vitality 3-Step Cycle System to Collect Points
1. Know your health status by doing the health assessments and check ups.
2. Improve your health by setting health goals and start doing healthy activities like exercise and healthy eating.
3. Enjoy your rewards as you progress in collecting your points through healthy actions.
Contact AIA Insurance Agent for more details on how fast you can collect your rewards.
AIA Vitality for Employee Benefits and Wellness Programs in Malaysia
AIA Group Insurance policyholders and corporate customers can reach out to AIA Insurance Agents to find out how this program can help with their members and employee wellness and health programs.
Get in touch with an experienced AIA Agent to help you get started with AIA Vitality. Levine Lee is an experienced AIA Agent and can help you get started quickly. The best AIA Vitality contact number to join or ask for help is: +6012-684 0948 or just click the button below:
Medical, Life and Group Insurance – Request for Quotation
"*" indicates required fields
---

At Red Cover Life Planning, we emphasize on our people- helping them grow, expanding their abilities, and discovering new opportunities. Join us now to be part of our team and story.
---
Latest posts by Levine Lee
(see all)